Shipping & Returns
Do you ship internationally?

Unfortunately, we currently do not offer international shipping. Our services are limited to US addresses. Thank you for your interest, and we appreciate your understanding.
What is your return policy?

There are 30-day returns At Sabrina A Inc under specific conditions. We stand behind each of our diamonds and fine jewelry products with a 30-Day Money-Back Guarantee.

If for any reason you are not satisfied with your purchase, you can return any item without custom engraving in its original condition within 30 days of the date of shipment for a full refund or an exchange.
How much is the shipping fee?

Share details about your shipping policies, item returns, or customer service.
Payment
What are your payment methods?

We currently accept payments through:

Apple pay
All American banks
Klarna
Do you offer financing?

We do not offer financing options at this time.
Orders
Do you accept custom orders?

Yes, we do! Please refer to this page for custom orders.
Do you provide certification for your diamonds?

Yes, we do! Contact us for more info.
Ring Size Guide
FAQ
Ring Size?
Measuring your ring size at home shouldn't be too hard.  Here are some recommended steps on how to do so.
Your ring should not be too tight nor too loose. It should fit loose enough to slide over your knuckles and snug enough so it cannot fall off your finger.
Measure by Millimeter
What you'll need:
Ruler or tape measure in millimeter

Paper strip, string or tape

Pen or Pencil
Steps:
Wrap string or paper around the base of your finger.

Trailing the paper around, mark the exact point where it overlaps.

Measure the string or paper with a ruler to get the diameter of the ring by laying it down flat Take your ruler and measure up to the marked point.

Pick the closest measurement on the ring size chart to find your ring size.
Diameter MM

Ring Size

(US & Canada)
Be Sure to Note:
Finger size will fluctuate. Heat and physical activity can affect the size of your fingers. When measuring your ring size, make sure you measure at room temperature.
Measure 3 to 4 times for more accuracy.
When the knuckle is bigger than the base of the finger, measure both places and pick a size in between the two.
Please feel free to contact us if you have any queries or concerns.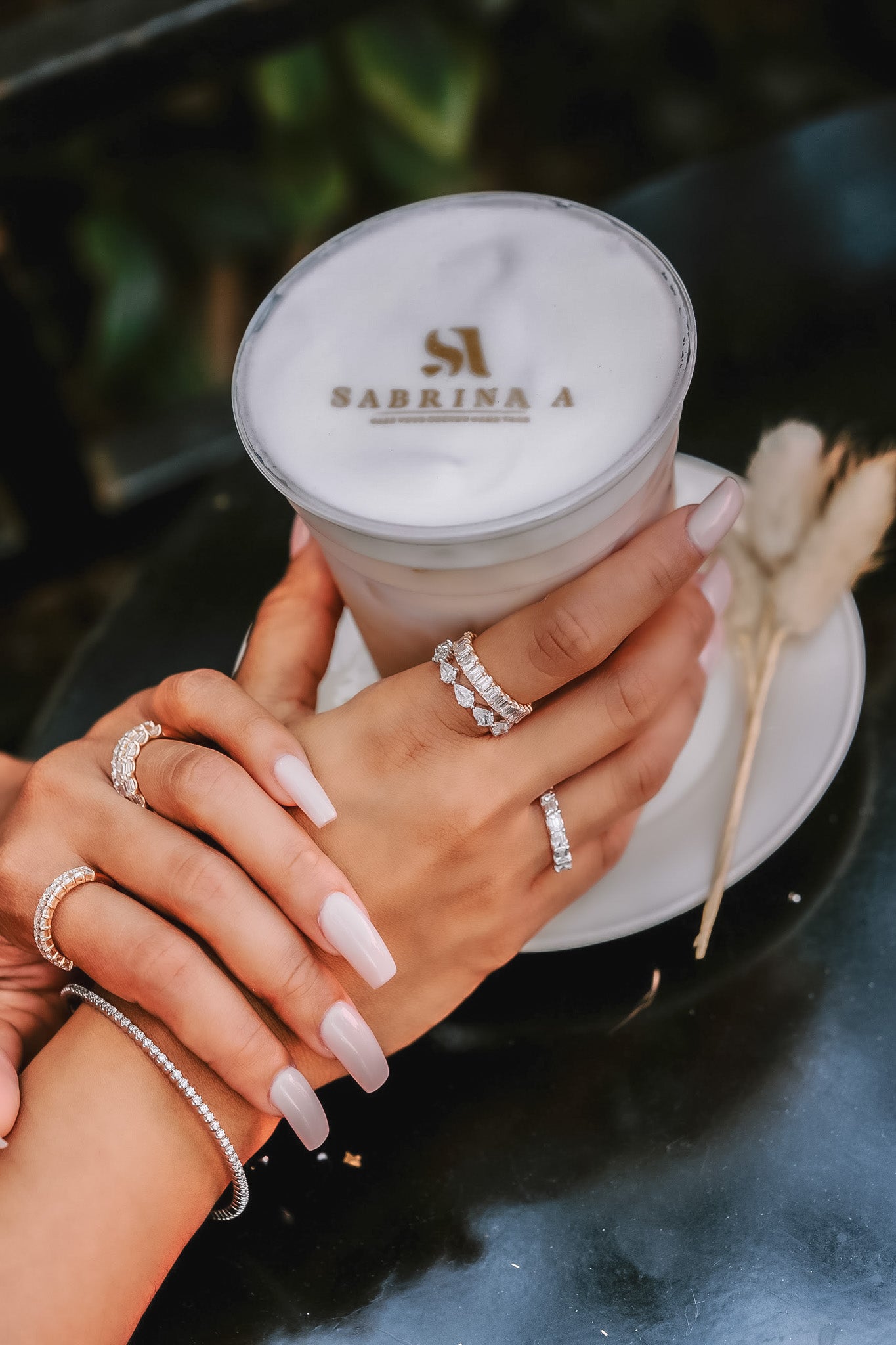 Have more questions?
Contact us at +1 213-435-0215 or email us at jewelry.sabrinaa@gmail.com